English muffins are traditional breakfast staples. A popular alternative to regular bread, English muffins can be served with savory or sweet toppings (or both, if you're feeling more adventurous with your meals!). This simple breakfast bread is commonly toasted and buttered and often served with other breakfast essentials like eggs, meat, fresh fruits, mashed avocado, hummus or almond butter. 
Although English muffins may seem like a "simple" breakfast staple, there's more to this bread than meets the eye. 
More health-conscious breakfast lovers choose English muffins over bread, thinking it's a nutritious choice. But is your favorite English muffin good in terms of calories and nutritional content? Or are you better off finding healthier breakfast options?
English Muffin Nutrition Facts
Today, English muffins are available in different flavors using different ingredients. Some muffins are made with multigrain flour or whole grains. Others contain seeds, cinnamon, nuts and raisins. Therefore, the English muffin's calories and carbohydrate content depend on the ingredients used. 
The basic English muffin, however, has the following nutrition facts:
Calories: 132

Carbohydrates: 25 grams

Sugars: 2 grams

Sodium:246 milligrams

Fat: 1 gram

Protein: 5.1 grams

Fiber: 2 grams
So are English muffins healthy? Again, it depends on the variety and ingredients used. The most popular types of English muffins are the standard fare you usually find in the bread or baked goods section of your local grocery store.
The typical single serving of an English muffin is one full muffin, which usually weighs 58 grams. Most English muffins have more calories than the one mentioned above due to the unhealthy amount of saturated or trans fat baked into them. Not to mention, some English muffins are made with an unhealthy amount of refined sugar.
Fats, Micronutrients and Carbs in English Muffin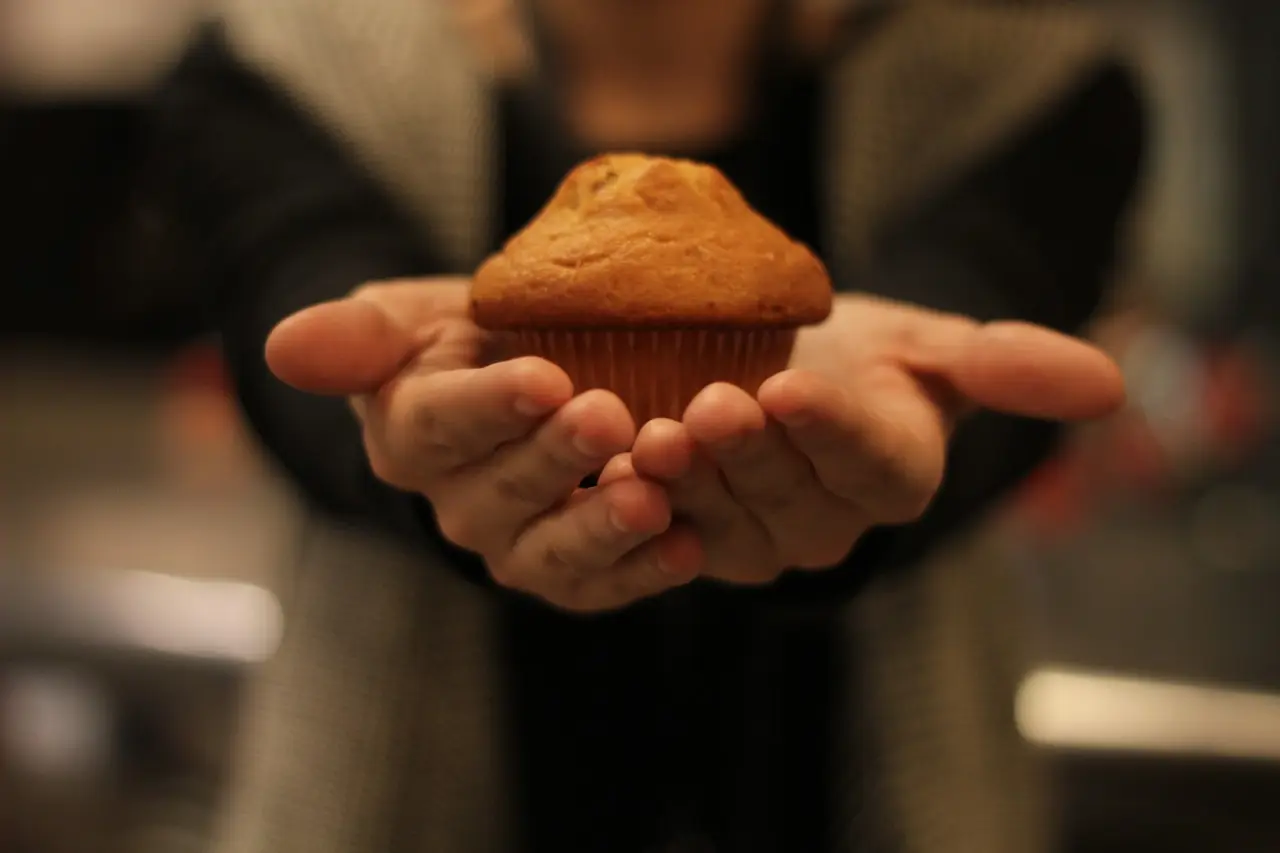 First, the carbs in your English muffin (in the form of starch) are responsible for your caloric intake. Unless you eat whole-wheat English muffins, there is almost 0 percent fiber in regular English muffins. In terms of glycemic index, an English muffin stands at 70, unless you eat a whole-wheat one. Whole grain English muffins have a glycemic index of 45.
Second, English muffins aren't rich in protein. You can only get a small protein boost with its four grams of protein macronutrients per muffin.
Third, in terms of fat, there is almost none in any English muffin brand. However, most people love to spread cream cheese or butter to their muffins, increasing the fat content of their breakfast. 
Finally, English muffins are not rich in vitamins and minerals. You will, however, get small amounts of niacin, riboflavin and thiamin. You'll also benefit from small amounts of phosphorous and manganese. 
But what if you consume the whole-wheat English muffin? Unlike the regular English muffins, the whole-wheat variety has more than four grams of fiber per muffin. They are also rich in calcium, iron, thiamin, selenium and niacin, as 59 percent of the daily recommended manganese intake. 
The fiber content of whole-wheat English muffins is good for your gut. A 2017 article from the journal "Nutrients" reported that consuming fiber-rich food keeps your gut healthy. It alters the bacterial fermentation in your gut, which reduces your risk for diseases and strengthens your immune system. High dietary fiber is also associated with lower rates of bowel disease and colon cancer. 
Are English Muffins Good or Bad for Weight Loss?
So, would it be such a bad thing if you indulge in English muffins for breakfast? What if you're trying to lose some weight?
In general, English muffins do not directly cause weight loss but they can help you a bit — if you eat the whole-wheat ones. Whole grain English muffins are high in fiber, which quickly fills you up and curbs your appetite. Fiber-rich foods like whole-wheat English muffins make you feel full faster, as well as maintain your blood sugar levels. Since you feel full, you'll have fewer cravings plus better control over your appetite.
If you want to watch your weight and still eat your favorite English muffins, watch out for the tricky labels. You may be a big fan of Thomas English muffins or other branded English muffins but not all varieties will help you in your weight loss journey. 
You might see the following terms on the labels of different English muffins in the market. Here's what they really mean.
Multi-grain.

This means the muffin used more white than whole-wheat flour. Apart from the white flour, it also has barley, oats, corn, rye, millet or barley. 

Original made with whole grain.

The term 'made with whole grain' is another word for 'made with little whole grain.' Don't be deceived; the product has more water and white flour than whole-wheat flour. 

100 percent whole-wheat.

Weight watchers will benefit more from this variety since it 100 percent whole-wheat. You're better off indulging in 100 percent whole-wheat Thomas English

muffins

or the whole-wheat varieties of Nature's Own, Whole Foods or Trader Joe's.

 
Which is Healthier? Bread or English Muffin?
According to the US Department of Agriculture's FoodData Central, a slice of white bread has 70 calories, a gram of fat, two grams of protein and 13 grams of carbohydrates. If you eat two slices of white bread, you consume a total of 140 calories — two fewer calories more compared to the English muffin. But the half of an English muffin is about the same size as a slice of bread. So, in terms of sizes, they are technically the same. 
What about other bread options? For instance, is an English muffin healthier compared to a crumpet? When it comes to the English muffin vs. crumpet debate, the crumpet has slightly fewer calories compared to the English muffin but the latter has less fat and no cholesterol. 
Regardless of your choice, however, there are many ways to make your English muffin healthier. As mentioned above, be particular about the variety you consume. Always choose whole-wheat or whole grain. Also, refrain from adding butter and cream cheese if you want to be healthier with your English muffins. 
How to Make English Muffins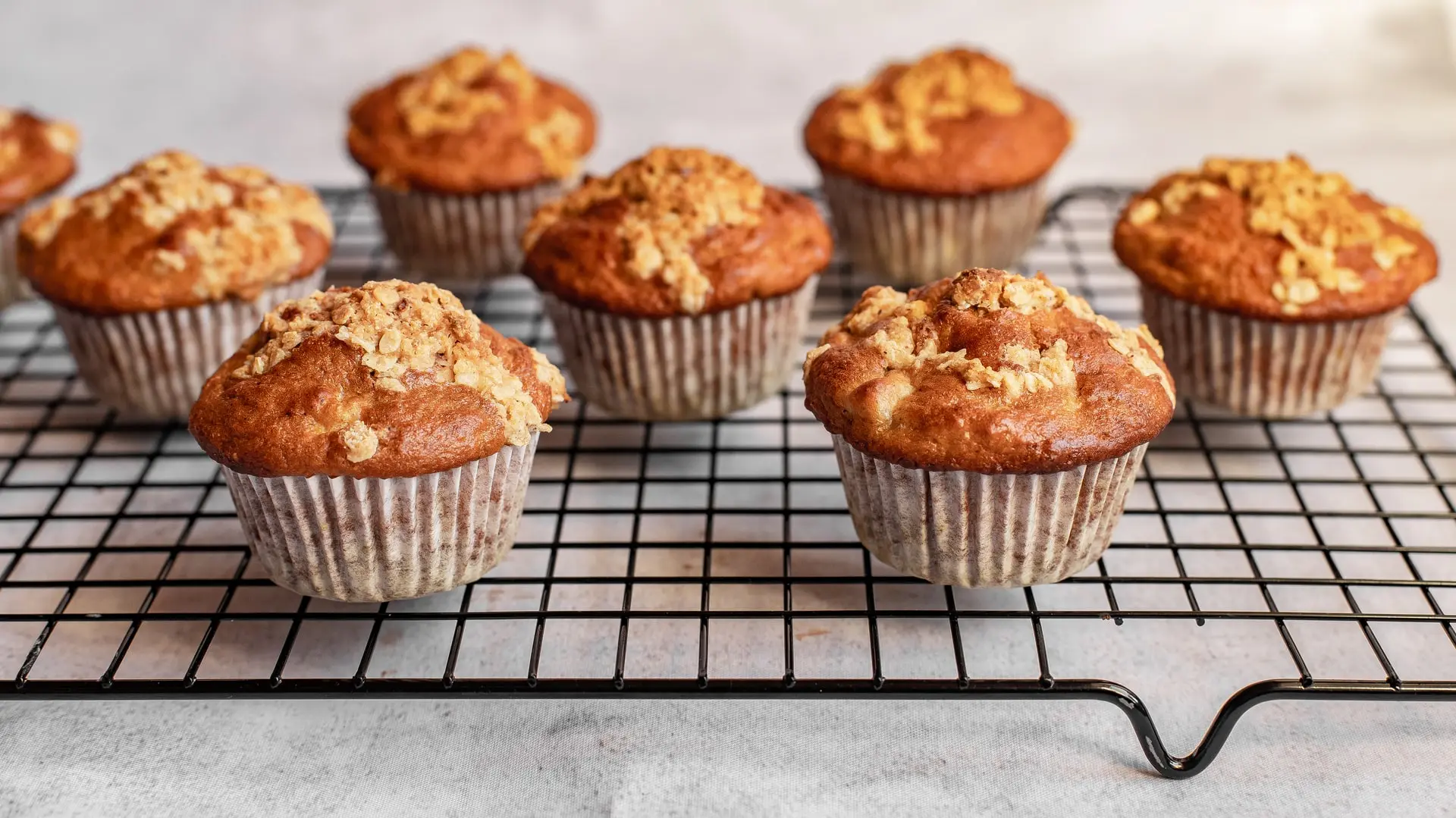 Ingredients
For the dough:
One cup of milk, 2% or whole
Two tablespoons of melted unsalted butter
3 to 3 ¼ cups of bread flour or all-purpose flour
One teaspoon of instant or active dry yeast
Butter for the pan/skillet
For the dough starter:
One-half teaspoon of instant or dry yeast. You can also use two tablespoons of any active sourdough starter.
¾ cups of bread flour or all-purpose flour
Instructions:
Make your dough starter. Mix the yeast, flour and water in a small bowl. Beat until the batter is glossy and smooth. It usually takes 100 strokes. 
Let the starter sit for an hour or 12 hours. Cover the bowl and wait for it to ferment. Keep in mind that the longer you let it ferment, the better the structure and flavor of your muffins. 
Whisk together the yeast, water and starter. Use a whisk to break the starter up and dissolve it into the milk. Make sure it becomes frothy. 
Add the sugar, salt and butter to the bowl and combine. Next, add three cups of flour and stir with a spatula until it turns into floury dough.
Knead the dough until it becomes a smooth ball. It usually takes five to eight minutes. You can also knead the dough by hand against the kitchen counter. The dough is ready when it forms into a smooth ball.
Let the dough rise overnight in the fridge. Don't forget to cover it with some oil before you cover it and place it in the refrigerator for up to three days. 
After three days, divide and shape the muffins onto a lightly floured work surface. Use a pastry scraper to divide your dough into twelve equal pieces. Shape them into smoother balls. 
Once you've transferred the muffins to a baking sheet, scatter cornmeal over the sheet on the muffin balls before you let them rise for an hour and a half or two hours. 
When the muffins are ready to cook, warm the skillet. Melt some butter and coat the pan to prevent your English muffins from sticking. 
Cook the muffins until their bottoms are golden brown. It usually takes five to six minutes. Once one side is cooked, flip to the other side. If you want thinner English muffins, gently press the top with the spatula. 
Once you've cooked all the muffins, place them on a plate, spread some jam and butter, and enjoy!
The English muffin, like any breakfast food, has calories, fat, protein, carbohydrates — everything people worry or think about. But instead of trying your best not to "cave in," indulge in this breakfast favorite in moderation!